An Organisational Culture and Integrated System
The Toyota Production System (TPS) is an organisational culture and an integrated system grounded on philosophy and complemented by technical tools and a managerial role focused on developing people to surface and solve problems.
Our mission is to support organisations committed to improvement by helping them apply the Toyota Production System concepts to their own unique situations.
In TPS Training Workshops participants will learn about the philosophy, managerial role, and technical tools of the Toyota Production System through a mix of classroom training and shop floor visits. See below for a summary of what's available.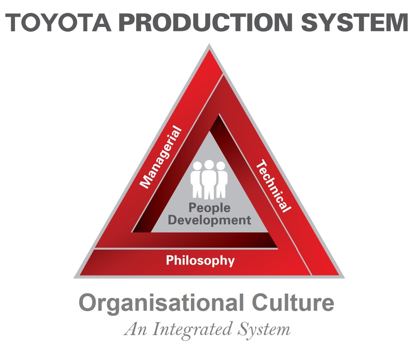 Workshop Training Options
Recommended
Overview of the Toyota Production System
$1200
per participant
One day training workshop focused on the technical tools of TPS and is designed for members directly responsible for day to day operations.
Learn how the appropriate use of TPS supports people to surface and solve problems.
Explore how TPS can be applied to address your own business needs.
Invigorate passion and empower your team to surface and solve problems.
For Senior Management
Line of Sight Executive Workshop
Contact Us
for pricing
Two day training workshop that expands beyond the technical tools of the Toyota Production System to include an exploration of the managerial role and how Toyota seeks organisation-wide deployment via the system known as 'Hoshin Kanri'.
Designed for senior management with organisation-wide responsibilities.
Content includes an overview of TPS, customised shop floor tour, guided discussions on the role of top management, as well as an in-depth workshop on how this all works together to provide a clear line of sight between business direction and daily operations.
Executive Workshop Agenda